Implementing the PGA
The Professional Governance Act (PGA) will be brought into force via regulation over the next several years in a phased approach. The first phase of implementation began on June 1st, 2019 and included:
Establishing the Office of the Superintendent of Professional Governance (OSPG) in the Ministry of Attorney General;
Hiring the first Superintendent, who will be the head of the OSPG;
Enabling some powers of the Superintendent including certain research, policy-making, and investigation and offence provisions;
Transitioning the administration of the professional statutes governing the five professional regulators in scope from their current ministries (Ministry of Environment and Climate Change Strategy; Ministry of Forests, Lands, Natural Resource Operations & Rural Development; Ministry of Agriculture; Ministry of Advanced Education, Skills & Training) to the Ministry of Attorney General;
Assigning administration of the PGA to the Ministry of Attorney General;
Implementing a merit-based nomination process for the professional regulators to select candidates for council elections;
Enacting the Professional Governance General Regulation (PGGR) which:
a. Prescribes process and merit-based selection principles to support s. 25 (1) [Selection principles  and criteria];
b. Prescribes relevant enactments for s. 6 [Professional Governance Advisory Committee] and parts of s. 18 [Public interest disclosure];
c. Prescribes information or documents for portions of s. 18 [Public interest disclosure]; and
On December 1st, 2019 will repeal advocacy clauses in the Foresters Act, and the Engineers and Geoscientists Act.
During phase one, the new authorities of the OSPG and Superintendent will operate alongside the existing governance statutes of the five professional regulators currently in scope of the PGA.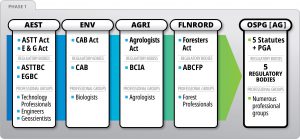 The second phase of implementation will occur over the coming years. The OSPG will continue to focus on regulation development and engagement to enact the majority of the provisions in the PGA and enable full functionality of the OSPG. As regulations are developed and enacted, the current five governance statutes will be repealed and the professional regulators will be established as regulatory bodies under the PGA.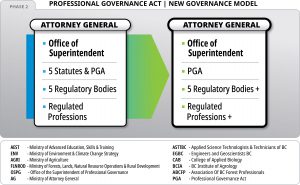 A future phase of implementation will bring in more complex sections of the PGA that require longer engagement and analysis.
The regulatory development process began as the PGA was passed into law in fall 2018. The government released the Regulations Intentions Paper Consequent to the Proposed Professional Governance Act and accepted feedback over a 4 month period. This feedback will help inform policy and regulation development. A summary What We Heard Report for that engagement will be published shortly. Further engagement will be conducted by the OSPG.