Superintendent
Biography – Kate Haines, Superintendent of Professional Governance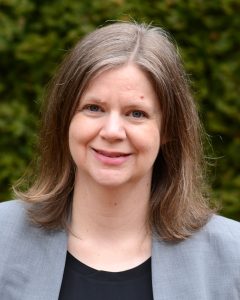 Kate Haines was appointed the Superintendent of Professional Governance in January of 2023. She has served as a member of OSPG's executive team since April 2020, most recently as Deputy Superintendent in the Audits, Investigations and Performance Management portfolio. In this capacity, she developed and implemented OSPG's performance review program, taking a phased approach to assessing how regulatory bodies are already meeting or planning to meet the Standards of Good Regulation.
Kate has over 15 years of experience in the B.C. public service. From 2009 to 2020, she worked in several operational and policy roles at the Environmental Assessment Office, where she was a key member of the team that led the recent revitalization of the environmental assessment process. This work resulted in passage of the new Environmental Assessment Act in 2018.
Kate holds a B.Sc. in biology from the University of Calgary, and an M.Sc. in geography from the University of Victoria.